Mad Mike's Insane Cars at Goodwood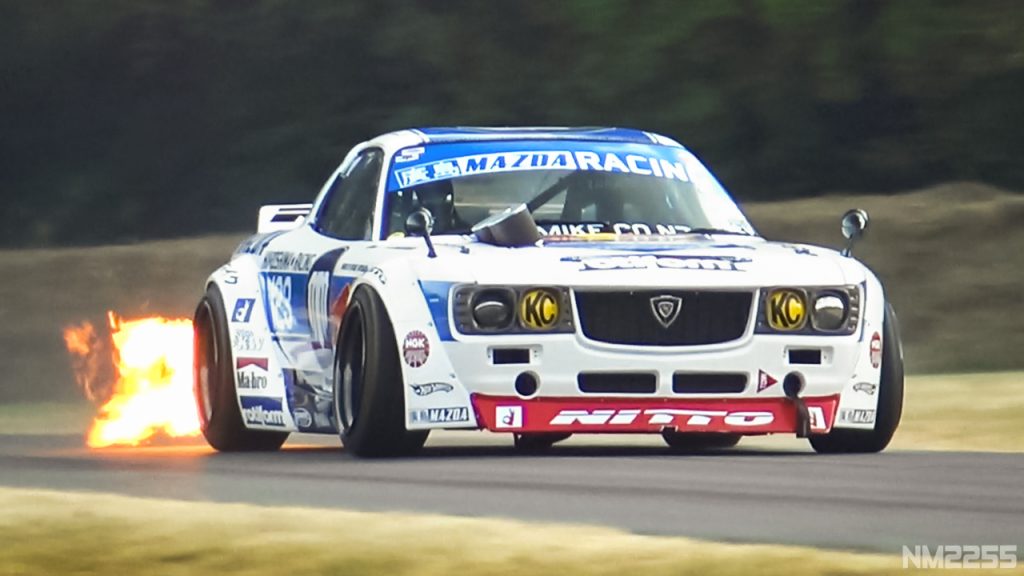 During my 3 experiences at FOS Goodwood, I've seen 3 of Mad Mike Whiddet's crazy drift projects. Down here I show you a brief video of his amazing cars.
RADBUL:

In 2017 he brought a Miata ND powered by a 26B quad-rotor twin turbo engine with two custom-spec Garrett GTX40 turbochargers that allow the car to reach around 1000hp with a low boost setting, then raised up to 1200hp. Then of course fully adjustable suspensions, Holinger Engineering 6-speed sequential transmission and lots of other things. It's amazing how the 26B can still sound good with turbos!

MADBUL:
This has to be the most insane car I have EVER seen! 2018 was the year of a Rocket Bunny widebody Mazda RX-7 FD3S, called MADBUL, powered by a 26B quad-rotor NA engine. The sound of the 26B rotary engine is PORN for the ears and those huge flames are the icing on the cake!

NIMBUL:

In 2019 we had a huge change of style.. It's time for Italian Bulls! We are talking about a a 800HP 5.2 liter naturally aspirated V10 Lamborghini Huracan drift car ripping up some tires at this edition of Goodwood Festival of Speed. The Nimbul is based on a RWD Huracan LP580-2 and it's fitted with a Liberty Walk widebody kit, Airrex digital suspensions and Nitrous!
Unfortunately due to the pandemic situation, the 2020 was held behind closed doors while for the 2021 I didn't manage to attend the event for travel restrictions between Italy and England. So let's enjoy again these three amazing builds by watching the full videos I produced previously!
26b drift drifting festival of speed goodwood goodwood fos goodwoood festival of speed Lamborghini mad mike mad mike huracan mad mike lamborghini mad mike miata Mazda Miata mx-5 redbull rx7 The Marbles themarbles TheMarbles.it twinturbo v10