Attacking The Time in a Rental MX-5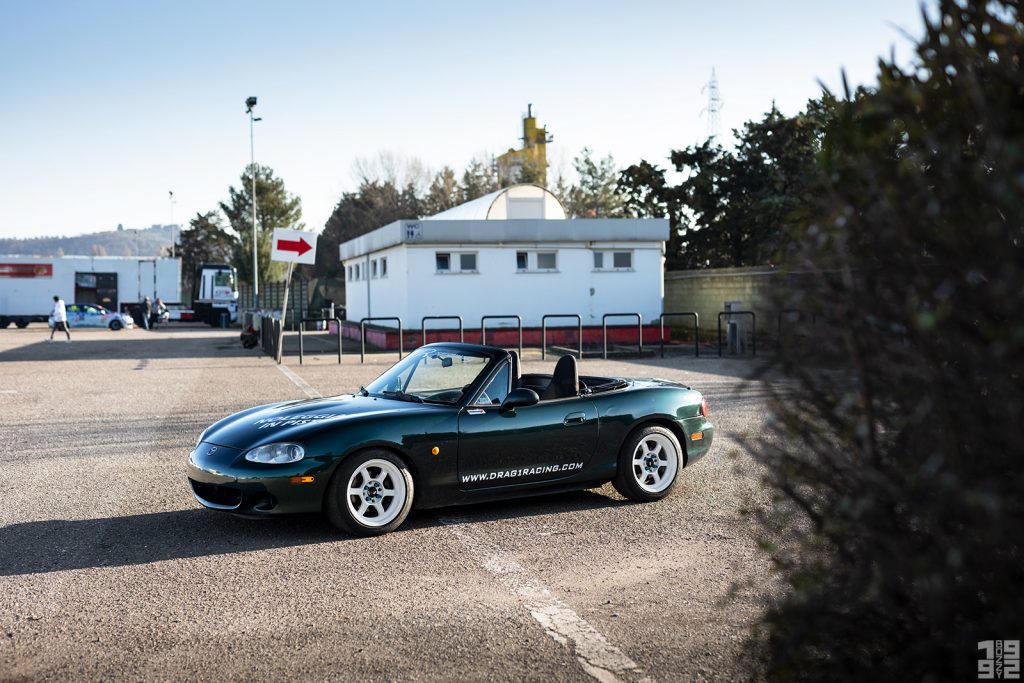 It was really amazing and unexpected to discover there was a chance to rent a car and enjoy some laps around Magione circuit. Never I'd imagined to find something that vaguely reminded me of the beautiful atmosphere of the Nürburgring and tourist drives.

Due to my young age, I got to know Magione mainly from racing games such as GTR2, rFactor and Assetto Corsa and in more than 15 years of sim racing I've accumulated a huge number of virtual laps around Magione. If I'm not mistaken, my praise for Assetto Corsa began right on this track since it was the only one available in the official demo of the game at the time. I'm an absolute rookie in terms of actual real-life track experience, not owning any car for that purpose.

If it wasn't for sporadic opportunities where I was able to rent a vehicle for some laps around the Nürburgring and a couple of sessions with a Legend Car here in Italy I could shamelessly say I've never driven a car on a race track. In fact my main issues are mainly fears: fear of braking too late, fear of going off-track, fear of ruining a car that isn't mine. But I'm sure you simply forget about everything I have listed just by spending more time with the car and accumulating track experience in real life.
At the beginning of January I went to Magione where a dear friend of mine had warned me that I could have probably rented something and enjoyed some laps on the homonymous circuit. The track toy was provided by Marcello from D1R Performance, a workshop based in Perugia specialized in car customizations, set-up and tuning: a little Mazda Miata. And there's something really interesting in this project which I'm going to illustrate to you.


It's a second generation (NB), restyling (FL) MX-5 powered by a 1.6-litre, 4 cylinder engine with 110 hp. Marcello found this fully stock Mazda up for sale at very low price some years ago and was soon impressed by the qualities of the small Japanese roadster, called by him "Hebi". He immediately brought it to Magione circuit in order to check what times it was able to do. He managed to clock a 1'39"9.
After this result his next goal was to reduce that lap time by 10 seconds without increasing the engine power. He started a long yet focused work of replacement of all those elements and components that could have improved the car for track-use: Ohlins Road & Track suspensions, lightened flywheel, EBC brakes and Nankang Sportnex AR-1 semi slick tyres.
As mentioned before almost everything related to the engine has remained fully stock with both original intake and exhaust (that's why even onboard you can barely hear it). The only further change he did was replacing the original 5-speed gearbox with the 6-speed one of the 1.8-litre NB.

After some attempts, many setup adjustments and still with the stock 110hp, 4-cylinder engine (with more than 200,000 km on the odometer), Marcello managed to lower that initial time by more than 9 seconds. He still has a couple of upgrades to do in order to gain those remaining tenths such as the addition of a TorSen differential which will replace the current open one. Being much improved on the handling side, his Miata has also become very sincere and easy to drive so anyone would be able to have fun on track.

But now let's get to my experience with Hebi. Last January I did a 15 minutes track day session during which I was really impressed by the work done by Marcello on the MX-5. But I didn't trust myself and I preferred to drive calmly and learn the track. Here you can find my best two laps of the session:

I was only able to set some 1'36"6 – 1'37" laps but you can see how much it's possible to improve that time and reach the low 1'31". I must say I was really impressed with its behavior. It was totally unexpected to find a Miata so generous, stable and precise in the slow and more challenging part of the track.
A couple of weekends ago I went again to Magione for other reasons and I took the opportunity to do another 15-minute session on track. Marcello also was very kind to allow me to drive the Mazda with a couple of upgrades that forced him to stay up all night before my arrival: some weight reduction and the addition of a Bride racing seat, which helped me a lot to better feel the movements of the car.


Thanks to some precious advice from him and being more focused on setting some good lap times I managed to reduce my 'January' best lap from 1'36"6 to a 1'31"320, only half of a second far from Marcello's best (even though the MX-5 had less improvements when he did his lap one year ago). So I'm more than satisfied with my result which you can see here with the full 15 minutes session on board:
As soon as Hebi will set an under 1'30" lap, the next step will be to put the hands on the engine too, probably with a rather interesting swap.

I must say that everything went the right direction to the point I gave back the car to Marcello in perfect conditions. Kinda of.. At the end of the day he was also able to fit the MX-5 with some street tyres and took part in the final drift session and drove it a bit sideways.

19Bozzy92 autodromo dell'umbria autodromo di magione d1r d1r performance d1r rental magione magione circuit Mazda mazda mx-5 mazda mx-5 nb mazda mx-5 nbfl mazda mx5 Miata miata race car mx-5 mx-5 nb mx5 nb fl on board lap onboard pov rental rental car themarble.it themarbles time attack track rental