The Greatest Automotive Week in Switzerland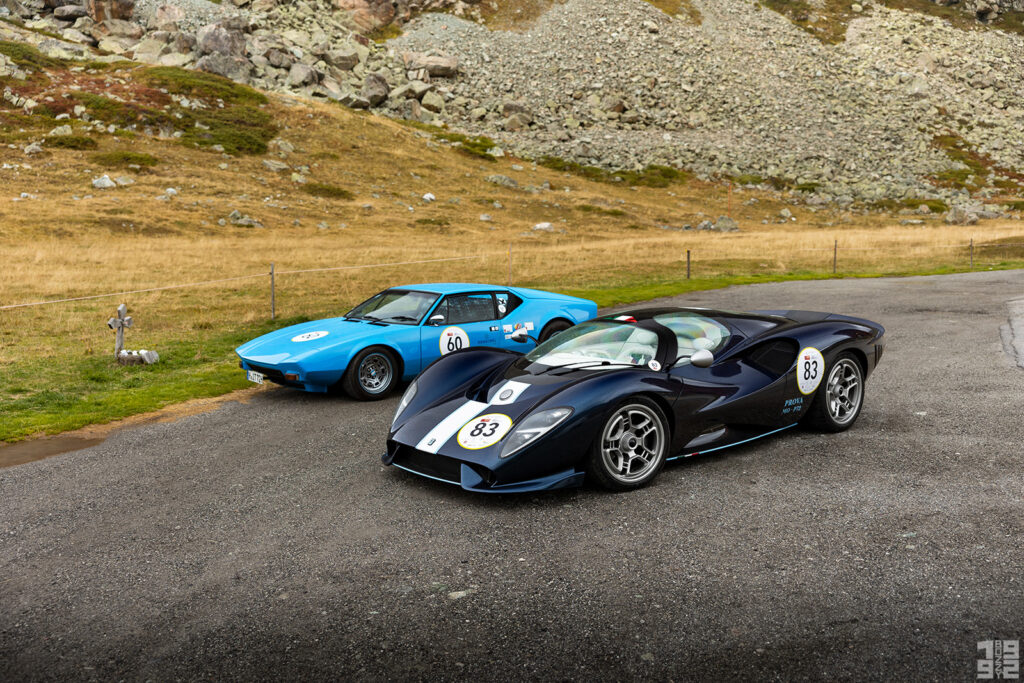 A few years ago I started to keep an eye on an interesting historic hillclimb event which was taking place on one of my favorite mountain roads in Switzerland, the Bernina Pass. When I was a child they used to take me there for a brief day trip in summer and I still have fond memories of that beautiful place not far from my home in Italy. I never imagined that one day it would have become again one of my mandatory trips during the year.
Bernina Gran Turismo is the name of the hillclimb event and the first edition was held in 2014 with the aim of keep the memory of the legendary Bernina hillclimb race of 1929 and 1930 alive. Until 2020 this was carried on as a single event in mid-September but the organizers had bigger plans for it. The event headquarter has always been located at the Kempinski Hotel in Sankt Moritz, 20km far from Bernina Pass.

In 1929 and 1930, the hillclimb competition was part of the International St. Moritz Automobile Week, which consisted of an entire week of events composed by a rally, a kilometer race, a skill race, a concours d'elegance and the hillclimb. Since 2021 BGT's organizers managed to expand their original format in order to celebrate the whole International St. Moritz Automobile Week (ISAW, shorten) with a selection of events which recalled the original ones.
In 2021 3 events made up the new ISAW: Kilomètre Lancé, Motorsport Rendezvous and Bernina Gran Turismo, respectively in the form of the kilometer race, the concours d'elegance and the hillclimb race revivals. For this year's edition they also introduced two rallies: one called Targa Poschiavo, open to 1905-1926 cars, and Super Stick Shift fully focused on super sports cars of the period from 1974 to 1995.

I've never been able to attend Bernina Gran Turismo before because it was always in conjunction with others racing weekends or events in Italy but fate wanted me to be there in 2021. And as you may have guessed I had to be there in 2022 too, managing to attend three of these ISAW events.
Kilomètre Lancé
As happened in 1929 and 1930 the 2021 and 2022 International St. Moritz Automobile Week started with the kilometer race revival. Up until 1925 cars weren't permitted on the Upper Engadin's unpaved roads as they raised a lot of dust by passing on them. To solve the problem and trying also to attract tourists the boss of oil company Shell had the road paved between the villages of Samedan and Pontresina. A few years later when the first edition of the ISAW was held, a dead-straight section of that road was used as the venue of the original kilometer race during which the only thing that mattered was the maximum achievable speed.
Of course nowdays these kind of sprint competitions are no longer held on public roads. Kilomètre Lancé is held on the runway of Engadin Airport, specially closed for this purpose. However Engadin Airport isn't only within sight of the historic venue, it also has a suitable track with its 1.8 km runway.

Despite the bad weather, a fair number of vehicles were there from old motorbikes to modern supercars like the De Tomaso P72, from curious electric vehicles to a 1894 Benz Velo, one of the very first car ever produced, powered by a 1.5 hp engine. And if you're wondering, yes it also completed a full run down the airstip!

But there were two cars which particularly caught my attention. The first one is called Streamliner C-16 and it's a modern tribute to the 1939 Mercedes W154 Streamliner Rekordwagen. The engine was created by combining two Buick 4.1L straight-8s.

The second one is for sure this Delahaye 107 Racer from 1924. Years ago I wasn't a fan of this kind of pre-war machines but as I get older they really start to fascinate me.
I would never buy one, as well as for custom bikes, but the amount of details they have keeps me glued to admire these museums on 4-wheels endlessly. Don't you find it fascinating to see all those visible mechanical parts moving?

I was really happy to have been able to attend this first event of the 2022 ISAW, not only because it was above my expectations but mainly because it really gave me so much hype for all that was yet to come in the following days.
Motorsport Rendezvous
Immediately after Kilomètre Lancé, the 2022 International St. Moritz Automobile Week continued with the two rallies which I didn't manage to follow. Instead I went back to Switzerland for the last part of the ISAW when Motorsport Rendezvous was taking place.

The modern concours of elegance doesn't aim to be a traditional line-up of over-restored luxury cars, but more focused on racing and iconic sports cars parked in front of Kempinski Grand Hotel des Bains of Sankt Moritz.

Among the numerous cars I appreciated the presence of a very special red, road-legal BMW M1 featuring the full body kit of the iconic M1 ProCar. But that wasn't the only reason for being so special. In fact the first owner of this M1 was Franz Reuther, better known as 'Frank Farian', producer, founding member and the voice of Boney M. The ProCar kit was fitted on the car by BMW Motorsport itself at Reuther's request. The car then changed various owners over the years.
Motorsport Rendezvous lasts three days, from Wednesday to Friday. Even if it may seem to be a purely static event there's always a quite good coming and going of cars, also because Thursday and Friday are the two days of technical checks and registrations for all the participants of Bernina Gran Turismo.
It always fascinates seeing so many special and rare cars gathered together in such a cool location. This is also a perfect opportunity for me to take some pictures and close-up scenese in a very relaxed way.
Bernina Gran Turismo
Finally here we come to the main event. At the end Friday's scrutineering, participants are allowed to move their cars to the top of Bernina Pass where a huge garage awaits them in order to get ready for the next two days.

Bernina Gran Turismo takes place on a section of the original route specifically closed to traffic, with the hillclimb course starting from La Rösa (1,871 m above sea level) and ending up on the actual Bernina Pass (2,328 m) after a total of 5.9 km.

Activities starts early in the morning and if weather is on your side you can enjoy beautiful sunrises that set the glacier in front of the paddock area on fire. Although, temperatures are generally near 0°C at that time and in that period of the year but it gets warmer as the sun rises. It's truly wonderful to constantly have that panorama surrounding you, especially when cars are starting to move on the course.

Saturday morning is dedicated to two free practice heats, followed by two race heats in the afternoon, immediately after lunch. If the conditions of the course don't change due to bad weather, on Sunday participants will have two further race heats to do, otherwise the first of the two will be carried out as a free practice and the second as the final race heat.

Participants can either register for the event in a competitive form or decide to enter the regularity race, for which the ranking is stipulated based on who manages to better respect the speed average set by organizers. There's also a batch reserved to few modern cars which did some demo runs such as a yellow Bugatti Divo and a Gumpert Apollo S. Last but not least at the end of each heat, a group of historic motorcycles did a very loud parade up the hill.

In 2021 I wanted to take advantage of my first time there to explore the spots on the course, focusing on recording the cars from the outside, but for this year's edition I promised myself to try to bring home better material in order to produce more complete videos dedicated to specific cars.

Luckily for me one of the cars I wanted to focus my attention the most, a 1990 Nissan Skyline GT-R R32 Group N touring car, was driven by a very kind and available owner (Johan, @sangfroid_shift on Instagram) who provided and allowed me to use his helmet cam footage recorded during his best run up the hill. You can watch the full video here:
But I'd say my highlight of the whole 2022 ISAW is related to De Tomaso. Not one but two P72 prototypes were there for the whole week, a thing that allowed me to collect a lot of material of this great sounding car and also have some interesting chats with De Tomaso's chairman, Norman Choi, P72's designer, Jowyn Wong, and development driver, Hugo de Sadeleer, during the various days I was there.

The guys were also very kind to let me install a GoPro inside the cockpit during one of their demo runs up the Bernina hillclimb. Even if the two cars weren't in the conditions of showing the full capabilities of the finish product, being only moving prototypes and not even development mules, recording that howling V12 echoing through the mountains has been in any case an opportunity which I will remember for the rest of my life.

Now that 2022 is over, I might consider ISAW as my favorite event I attended this year and I am convinced that it will continue to grow over the next ones. I can't wait to see what the organizers have in store for the upcoming editions!
bernina gran turismo bernina gran turismo 2022 bernina gt bernina hillclimb bernina pass concours of elegance hillclimb racing historic racing International St. Moritz Automobile Week isaw isaw 2022 kilometre lance Motorsport Rendezvous sankt moritz switzerland themarbles TheMarbles.it